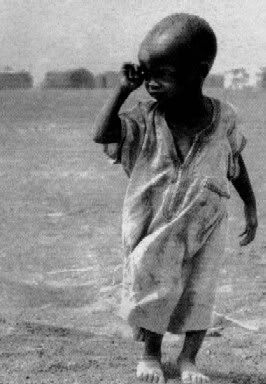 I sit here today in comfort...air conditioning and fans going to beat the heat, a belly full of a delicious and nutritional breakfast, my children safely playing outside in a yard scattered with toys, and a house filled with so much stuff it has to sit around in piles for lack of enough storage space.

Yet all over the world today, countless people are living in fear, dying from hunger, working as slaves, fighting to survive, watching their loved ones succumb to the evil of AIDS, and wondering if anyone even cares.

I do care...but do I care enough? Do I really and truly care enough to not just sit here and feel guilty, but DO SOMETHING?!?

God is waking up many of us here in America to the reality of our apathy. We've allowed all the good things that we've enjoyed drug us into a selfish complacency. Sure, we care, but we're often just too busy or wrapped up in our own little world to care about the rest of the world...the rest of the world that on the most part, desperately needs us to bring about change.

"Pure and lasting religion in the sight of God our Father means that we must care for orphans and widows in their troubles, and refuse to let the world corrupt us." James 1:27

**********************************************

Looking for a change?

Tom Stoddard's visual essays: http://tomstoddart.com/emotion.html

Franklin Graham and Samaritan's Purse: http://www.samaritanspurse.org/

IRRESISTIBLE REVOLUTION: http://tomstoddart.com/emotion.html

Zoe Children's Homes: http://zoechildrenshomes.org/

Author Lisa Samson: http://lisasamson.typepad.com/

Children's Hopechest http://www.hopechest.org/